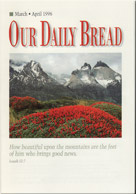 He was wounded for our transgressions, He was bruised for our iniquities. —
Isaiah 53:5
Some early settlers were traveling together across the western prairies of the United States. One day they were horrified to see a fire fanned by strong wind coming their way.
As the flames raced closer and closer, one man, to the amazement of the others, set fire to a large patch of grass downwind. The tinder-dry grass burned quickly and left behind a charred and barren area. Then he told them to move onto the burned-over place. They watched as the fire swept toward them until it reached the burned area—and then stopped! They were safe as the fire passed by them on both sides.
The fires of God's judgment will descend on a wicked world, but God has provided a burned-over place. At Calvary, the fire of God's justice was met by Jesus. He bore our sin there and fully paid for our transgressions. He made full satisfaction for our sins, and we who have taken our stand by faith in the finished work of Christ are safe in the burned-over place. There is nothing left to burn.
Jesus "bore our sins in His own body on the tree, that we, having died to sins, might live for righteousness—by whose stripes you were healed" (1 Pet. 2:24). Are you in the burned-over place?
The flames of God's judgment can never touch me,
For Jesus has borne all God's wrath on the tree;
I now stand secure in the burned-over place,
A sinner, unworthy, yet saved by His grace! —Bosch
Jesus died in our place to provide a place of safety.
Shabbat Shalom 
Chazaq!